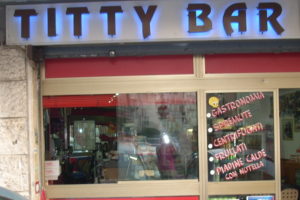 Were it up to us we'd be pleased to educate every consumer the proper etiquette and customary code of polite behavior in society of depicting our profession.  We at Billy Deans Showtime Cafe deemed correctly identifying our business as a "Gentlemans Club"or "Gentlemens Club"
Being shy of three months of operating 20 years in North Bellmore, Long Island it always amazed us how guests described our business model. The slang Titty Bar, Strip Club, Giggle Joint, Adult Entertainment, Stripper Joint, Girly Club, Nudie Bar, Topless Club, Boobie Joint,  and the list goes on while we as entertainers deserve our facility to be referred to in the proper vernacular which we prefer. "Gentleman's Club"or "Gentlemen's Club"
If we lived by that notion we would have never made it twenty years.
Unfortunately society has stigmatized  facilities where women dance as one in the same. It is a cross we bear and  is beyond correction. The public does not understand the differences in the application of the terms. We believe we can thank Television for the innuendos above, with successful shows  having memorialized in the viewers minds slang which the public refers to describe our profession today. With that fact in mind we continue to optimize our website with terms we frankly deem as derogatory however since the vernacular is so well ingrained into American Culture we are left no choice but to use these terms in order for the public to locate us on the World Wide Web. Doing business on Long Island and marketing to millions of people we have to imagine how people may classify our facility and use words we dislike in hopes people will find us in the maze of confusion of billions of choices.
In future blogs we will point out popular family Television shows that put our industry into the maze of misinterpretation.