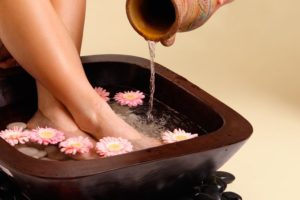 Many of our guests have the one special dancer they visit late night from time to time. On the way home from a date who turns out to be the date from hell or the night you have a fight with your girlfriend or wife. Heck, it happens to the best of us.
You know the dancer well enough to remember her name. Of course strippers work for tips however do you know what they really love? Not Roses or Teddy Bears. A gentlemen gift in which a dancer will remember YOU every time you walk in is a gift certificate for a pedicure! Our girls just love their pedicures! I am not sure why more guests would not consider giving a gift certificate for a foot massage or pedicure to there favorite lady. It is a divine moment in every dancers career to spending 45  minutes of bliss on pounding aching feet.
It makes for a great Birthday gift too, fun for the make-up with the wife or girlfriend you had a fight with… Gentlemen!
Billy Deans Showtime Cafe, 1538 Newbridge Road, North Bellmore, Long Island, New York
Open every Thursday, Friday and Saturday Evenings at 10PM. We wont close till the last lap dance is over!