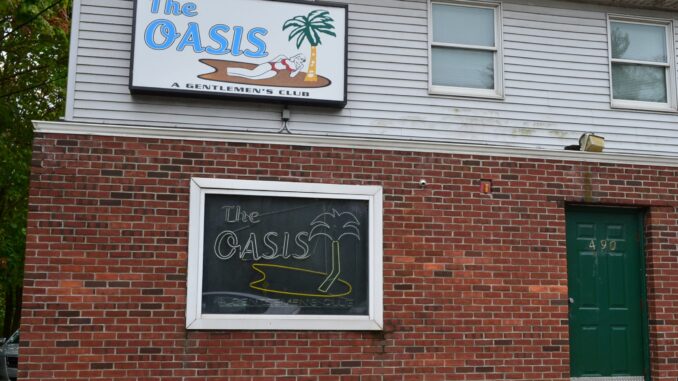 Oasis Strip Club Closed
Another Gentleman's club has vacated Long Island. Oasis Strip Club Closed. Oasis was located at 490 W. Jericho Turnpike, Smithtown. The strip club industry lost another one of our fellow operators however Oasis Strip Club shuttered not because of the Pandemic.
It is official, the Town of Smithtown decided to push the owner to sell by threatening to take the club through a law known as eminent domain. The municipality selectively persecuted the owner by using  law to motivate the operator to negotiate and sell his property. Because the community did not like where the club was located and due to residents pressuring the local politicians, the small businessman succumbed to the whims of Smithtown's political hacks.
Oasis Strip Club was also known as the Bull Creek Inn, Habitat and Rosebuds. The location provided Adult Entertainment since 1979. Oasis Strip Club was not near residential homes. After years of legal wrangling Thomas Murray decided to sell his facility to the town, therefore the town could build a new entrance to the park.
For those of you who were not familiar with Oasis Gentlemen's Club  it has been a bar pre-dating zoning records. It was very tiny. It had a cute bar and a very small stage. Because local politicians again looking out for their own best interests, this facility became another causality.  This location is an example as what local elected officials will do to keep their positions. As usual it is small business being forced out of a neighborhood due to the greed of administrations. Certainly not because it was the right thing to do.
I for one really liked this location. Because the bartenders were always friendly and it was right in my neighborhood. Oasis Strip Club did not close till 4AM and over the years I would stop in for a night cap. It was a landmark in Suffolk County. The dancers were of all types. Sadly, many people lost their livelihood. It was one of the first Long Island gentlemen's clubs I had visited.
Because Oasis Strip Club Closed only 6 Gentlemen's clubs in Suffolk remain. Temptations, Blush, Carousel, Gossip, Mirage, The Scene and Forbidden Fruit. Billy Deans Showtime Café is the only operating gentleman's club in Nassau County. Over the last 5 years Long Island has lost 5 strip clubs. Seductions, The Taste of Honey, Le Café, The Blue Rhino, better known as the Tender Trap and Illusions.
We are very proud we have managed to survive. It has not been an easy task. Billy Dean has recreated his brand several times since his 1979 debut.