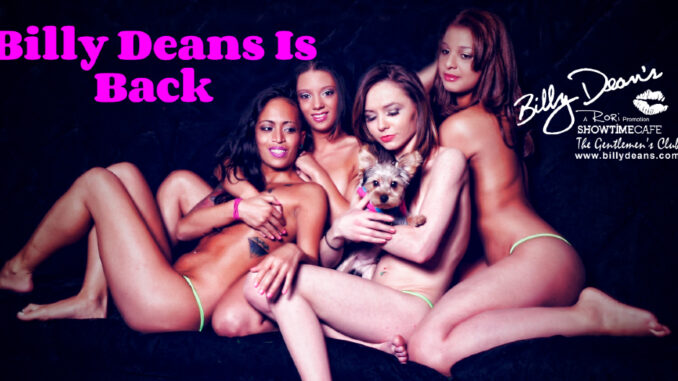 Billy Deans is back!
Can you believe it after one & a half years Billy Deans is back this Thursday, September 23rd, 2021 @ 10PM. We are so happy to return to the marketplace with a beautiful renovated facility. Billy Deans is back with brand new couches and chairs, table tops, bar stools and the best of all, gorgeous silver barrel style chairs for stage side seating. It's been a long time coming. Now it's just days away.
Billy Deans is back with a few new faces as well as some of our former dancers. Strippers come and go however the person who will be behind the bar entertaining you will be the one and only Mr. Billy Dean!
Much has happened since we saw all of you last. We lost our dear friend Dean Martin who worked for us on and off for many years. Some of our favorites have moved on. Certainly being closed for as long as we have is understandable as girls needed to find other employment. Sadly COVID has taken a toll on the world in a most horrific way. We have completely sanitized our facility from top to bottom. A fresh coat of paint, some new artwork and we are ready to have some fun just like old times!
We will be open every Thursday, Friday and Saturday evenings at 10PM. As always we are the favorite place for friends and couples as we are a female friendly facility. We are that special place for your Bachelor, Birthday, Anniversary Parties or simply a club to chill out with friends.
Billy Deans is located at 1538 Newbridge Road, North Bellmore. For more about the history of Nassau's only surviving Gentlemens club you can read about our history here
Looking forward to seeing you soon