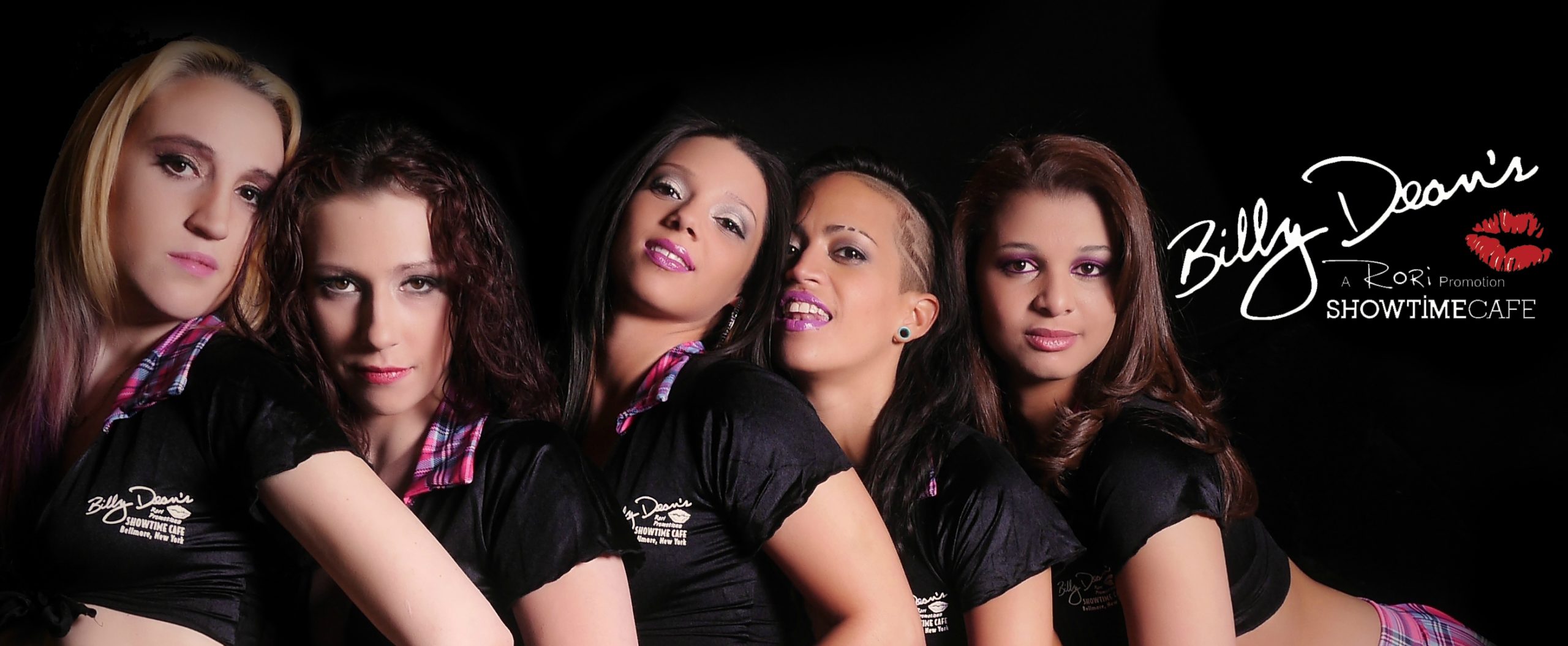 What you need to know ~ Strip Clubs Hiring
Start a Fun, Lucrative Career at Billy Deans Showtime Café.  While there are always strip clubs hiring do your research as all clubs are NOT created equal. The entertainers on the Billy Deans Dream Team are helping to make our gentlemen's club a place guests enjoy being. Read more about  How to Start Stripping/ here. For many people interested in how to get hired as an exotic dancer fortunately we have no audition process. As a matter of fact, we prefer girls who never worked as strippers before, therefore we may train them the "Billy Dean" way.
Back in College & Need a Job?
If you're hunting for high-paid jobs on Long Island but don't want to trade a fun working environment for a decent paycheck, a position at Billy Deans Showtime Cafe may be exactly what you're looking for. Here at Billy Deans, we feel it can go hand in hand to work hard and have a good time. We consider our dancers the biggest part of our beloved squad.
Envision finding a job that offers an exciting work environment, great earnings, a close-knit "family" and plenty of long-term earning potential? As it turns out, when you work at a successful gentleman's club, that dream job can become a reality. Strips clubs are always hiring however where you work you must feel secure. With that in mind we have successfully started the careers of hundreds of girls undoubtedly due to the way we run our company.
Gentlemen's club jobs might have more perks than you'd expect, especially if the exotic dancer industry is new to you. One of the biggest benefits of working in a gentlemen's club is the excellent earning potential. We present you the opportunity to make a serious living.
Club employment in a gentlemans club could have more advantages than you would expect, particularly if you're new to the exotic dancer industry. One of the greatest benefits of working in a gentlemen's club is the earning potential, because we give you the chance to make excellent money.
Every day, the work environment offers something new and different which is a definite contrast between typical 9-to-5 jobs.
If you attend  Nassau Community College for example we are an excellent fit for you.
We are centrally located to Hofstra, C.W. Post, Adelphi and Old Westbury.
In the beginning of dancing at Gentlemen's Clubs
The success of a top-rated gentlemen's club relies solely on its dancers – however at Billy Deans Showtime Café experience is not a requirement. Be positive polite and optimistic. With a great attitude, walk in the door and you'll always arrive on the right foot. Be respectful and cordial to anyone with whom you communicate because a hostile or unfriendly mood will kill your chances before you ever have an opportunity to make money.
Confidence is key. You don't necessarily have to have a perfect body or incredible dance skills to get hired, but a sexy, confident attitude can go a long way.
Feel free to reach out to me, Ms. Rori Gordon, rori@billydeans.com. Make sure to include your contact phone number a recent photo in a swimsuit and a head-shot.