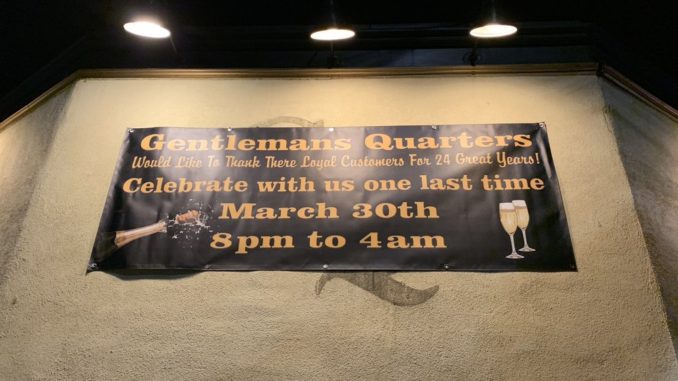 Gentlemen's Quarters Closed Permanently
Gentlemens Quarters closed permanently 3/30/2019 however it leaves us sad. A long time competitor in the girly and strip club industry danced its last lap dance. Therefore when a competitor shuts the doors in our industry it leaves a void. Gentlemens Quarters closed after 20 plus years of providing entertainment to the western Nassau County community.
No longer existing are facilities for guests to bounce back and forth in Nassau County. GQ was one of the last clubs besides Billy Deans Showtime Cafe in the entire county. Gentlemens Quarters brought new people to the area as did our facility. We may have competed for the same guests however competition is healthy and the Town of Hempstead always had enough business for both clubs.  The ladies dancing at Gentlemens Quarters danced their final lap-dance, forever.
What is happening to the strip club industry?
Gentlemens Quarters shut and we can not say for sure why the girly club industry is shrinking. Not being privy to the exact reasons to the demise of the facility we were aware the rent was
unsustainable

. Therefore that combined with other business challenges a small business owner faces in one of the highest taxed locations in the United States certainly did not help their plight. Girly club business owners are no different than other businesses. Taxes, payroll, maintenance, increased liquor & beer costs, mismanagement are all issues which add up. At the end of the day, month or year our guess is the location could not sustain the high costs of doing business in Nassau County hence Gentlemen's Quarters shut. No other operator stepped in.
I for one will miss the billboard truck they supported traveling up and down the Nautical Mile in Freeport every Friday and Saturday night during the summer and all-around Nassau Coliseum during special events.
Gentlemans Quarters is not the only club to have shut its doors as of recent. Seductions along with a Taste of Honey both located in Hempstead closed their doors in the last few years. The Taste of Honey was around for over 40 years, Seductions less than 13 years. As of today Long Island has fewer than 7 strip clubs or adult entertainment facilities (not the vernacular we prefer however continued to get lumped into) still operating.
Our operation is a small mom pop business. The facility has been operated by the owners since its inception in 1998.
We welcome all who are seeking a fun night out, sharing an evening with our beautiful entertainers. We are close to Nassau Coliseum, the Long Island Marriott of Uniondale, Hyatt Place, Spring Hills Suites, Homewood Suites and Hampton Inn of Garden City, the Garden City Hotel, Courtyard of Westbury, La Quinta of Garden City, Holiday Inn, Courtyard, Hilton Garden and Vanderbilt of Westbury conveniently located off the Southern State Parkway.
Our facility is open Thursday, Friday and Saturday evenings at 10PM. For an entertaining evening out with the guys or girls, please check us out. Our facility is female friendly 🙂 516-783-0003