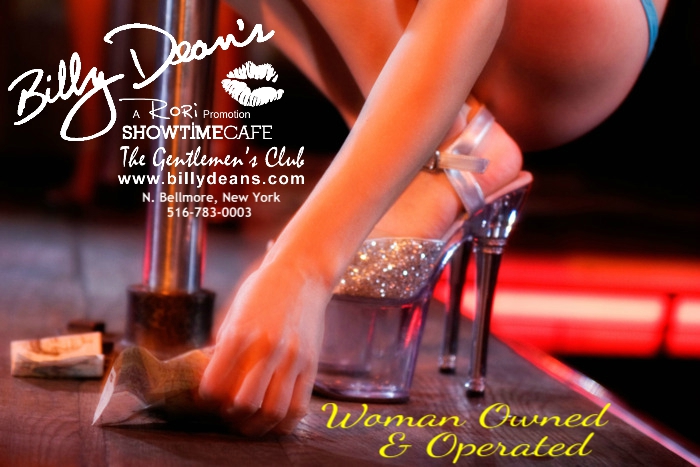 Exotic Dancing Long Island, New York
Long Island exotic dancing has become close to extinction. Most notably in Nassau County. Out of the three townships, Hempstead, North Hempstead and Oyster Bay the only town which has operating gentleman's clubs is the Town of Hempstead https://hempsteadny.gov/. It is hard to imagine however this is a fact. Here at Billy Deans Showtime Cafe we do not take this for granted. The owners pride themselves in their facility which has been in operation for over 20 years.
The difference between our strip club & the competition?
This is simple. Billy Deans Showtime Cafe offers strippers in g-strings and pasties. Our competitor is a bikini bar. Another distinct difference is the girls that work in the facility are all English speaking. Our dancers are predominately local College girls working there way through school. We have a wonderful mix of ladies white, Hispanic, dark, brunettes, blondes and even a girl with pink hair. Because of variety we clearly have the edge over our competition. We pride training newcomers who learn the "Billy Dean" way.
Why choose our Gentlemen's Club?
The value is in the Lap Dances. We can say this because Billy Deans Showtime Cafe is the only club guaranteeing a 6-minute dance for $30.00! Because all of the lapdances are timed on the house clock, no other club can offer you that. As a result the club will not allow dancers dictating the time you receive. It is a unique concept which you will not find anywhere else. Remember earlier how we talked about the "Billy Dean" way? Stop by any Thursday, Friday or Saturday evening for a cocktail and a dance. We open at 10pm and will not close until the last lap dance is over. Our club is located at 1538 Newbridge Road, North Bellmore, New York. We are conveniently located near all of Long Island's major Hotels and Nassau Coliseum.