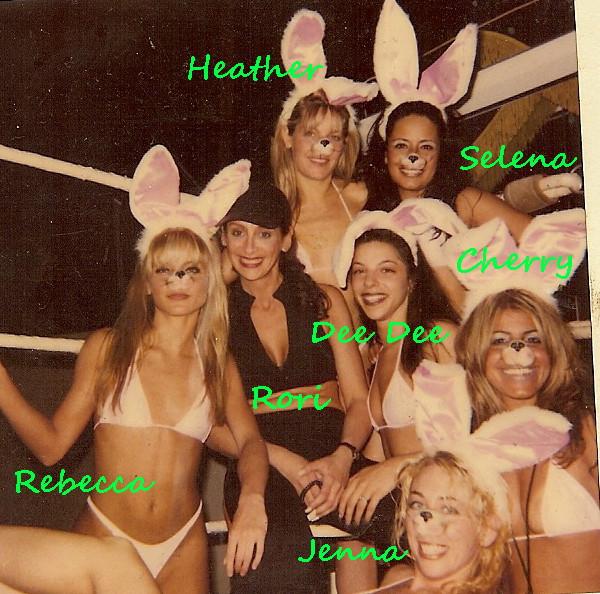 Billy Deans Showtime Cafe Alumni entertainer Rebeakah Lydon is in second place for the finals in the "Inked Cover Girl" Magazine Cover Competition! We are asking you to click this link: https://inkedcover.com/2018/rebekah and vote for Bekah. It takes just a minute, she is in second place and needs all our help. If she wins the $25,000.00 she will be donating $10,000.00 of her money to two local charities in the town where she lives today. You can read about her on her entry link to the contest above.
At the age of 19 Bekah moved to New York from Chicago for a year and a half and was employed on our team in North Bellmore. (See photo left, pretty blond on left next to Rori). For those of you who remember her Bekah AKA "Taylor" performed her most popular routine to Joe Cocker's "You Can Leave Your Hat On" circa 1999 at Billy Deans Showtime Cafe.
We are so proud of all her success. After she returned home to Chicago. She opened a restaurant as well as owned a small percentage of ownership in a bar. She was looking for another business opportunity where she could spend more time with her two young daughters as the restaurant took away more hours than she anticipated…and came across a new franchise business. She trained at the company headquarters of "Smallcakes, Cupcakery and Creamery". In time she decided to move her family to Colorado in the growing area of Castle Rock.
Today Bekah is an accomplished business woman. She is the proud owner of now her third store, "Smallcakes Cupcakery and Creamery" located in Castle Rock, Lone Tree and at the Denver International Airport.
Another great success stories the owners of Billy Deans Showtime Café are so proud of! Drop by often to check our blog where we will feature many of  the strippers who went on to do great things with there lives…..unlike the pre-conceived notions that gals who work in a Gentlemen's club never amount to anything. That is simply a stigmatism attached to our industry. We are so PROUD to prove folks WRONG!