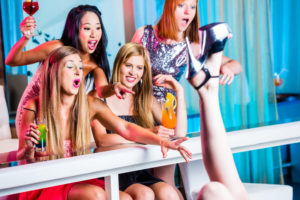 Women Guests outnumbered men last night. Female friendly Billy Deans Showtime Café, Long Island, New York, entertained more girly patrons then we have seen in awhile. Times have changed. Girls patronizing strip clubs on Long Island find it socially acceptable to support the Gentlemen Club Industry in 2018. We see this trend on an upward tick since 2005. It was wonderful to see 14 female guests sitting stage side, and NOT a single bachelorette party! Strip club dancing is… FUN and the accepting society of today's youth women scream for equal rights.  Why not? Bi-curious, bi-sexual, lesbians are socially acceptable life styles today, shouldn't woman enjoy themselves too? Our woman patrons are equally in awe of our dancers, though people assume only gentlemen attend.
In attendance four couples, 2 of whom were celebrating anniversaries, the other two couples were simply enjoying life! Two Birthday celebrations both of whom were females were loving the dancing skills of our dancers and were graciously tipping. Men, women, don't be shy, we love you all. Stop by for a beverage and just unwind 🙂
Open till 4AM, Thursday, Friday and Saturday!