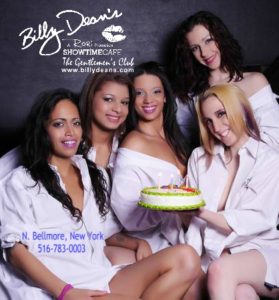 Long Islands Best Strip club. Who else can say they have stood the test of time? If you had to answer the question as which company first comes to mind when you think of a Long Island's Best Strip Club or Long Islands Gentlemen's Club what would it be? Certainly Billy Deans Showtime Cafe of Bellmore!
Did you grow up on Long Island? You should remember us as far back as Escapes in Merrick. Billy Dean is a trend setter. Always imitated, never duplicated. No one can say another operator has successfully owned a variety entertainment company as long as Billy Dean. Others have come and gone, locations have had multiple owners and management companies. Not Billy Dean. Since 1978, 40 years of continued success! Bachelor, bachelorette and birthday parties a great memory for so many of our guests.
Are you searching for a fun night out with friends or in need of a place to celebrate your next special occasion? You need not look any further. Billy Deans Showtime Cafe is here for you.
18 to enter, 21 to drink. We are conveniently located off Southern State Parkway exit 25 south 1 mile on the right in the Dunkin Donuts Shopping Plaza. Currently our hours are Thursday, Friday and Saturday evenings; doors open at 10pm.