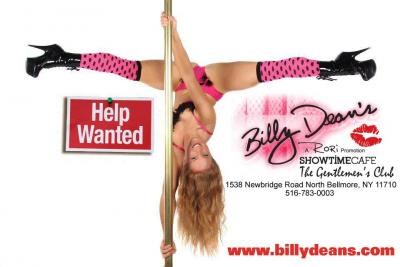 If I have heard it once, I
have heard it 1000 times. How does one get started in the world of pole
dancing? My office takes many calls every week from girls and guys asking where
to start. Here at Billy Deans Showtime Café having no experience is a blessing
in disguise. We provide training in all aspects of becoming an entertainer THE
CORRECT WAY.
It really is not important whether you have the ability to do pole tricks. That all comes in the amount of
time you put in to your craft. I over the years explained it as such "It is similar
to riding a bicycle, you fall down many times" Evidentially you will start to
pick up small moves here and there. That does not mean that you can't make
money in between. Every individual that starts out in this business develops their
own style. Some of our employees are great conversationalists; others might be
looking for an excellent workout and simply a way to earn some extra cash. I
have had girls that came to us with NO EXPERIENCE and ended up competing in the
national POLE CHAMPIONSHIPS.
The guests that visit our
club like different attributes in an individual; for example some like tall
girls, some like blondes, brunettes or tattoos. With this being said, each
individual when they come to work at Billy Deans Showtime Café can find a happy
medium if they are willing to work hard and put in the time; or as we say it in
the industry "pay your dues". When you start out do not anticipate making a lot
of money. Like anything else it is learning process that here at Billy Deans
Showtime Café we are willing to work with you the whole way. Call our office
today to set up an interview and meet our staff.